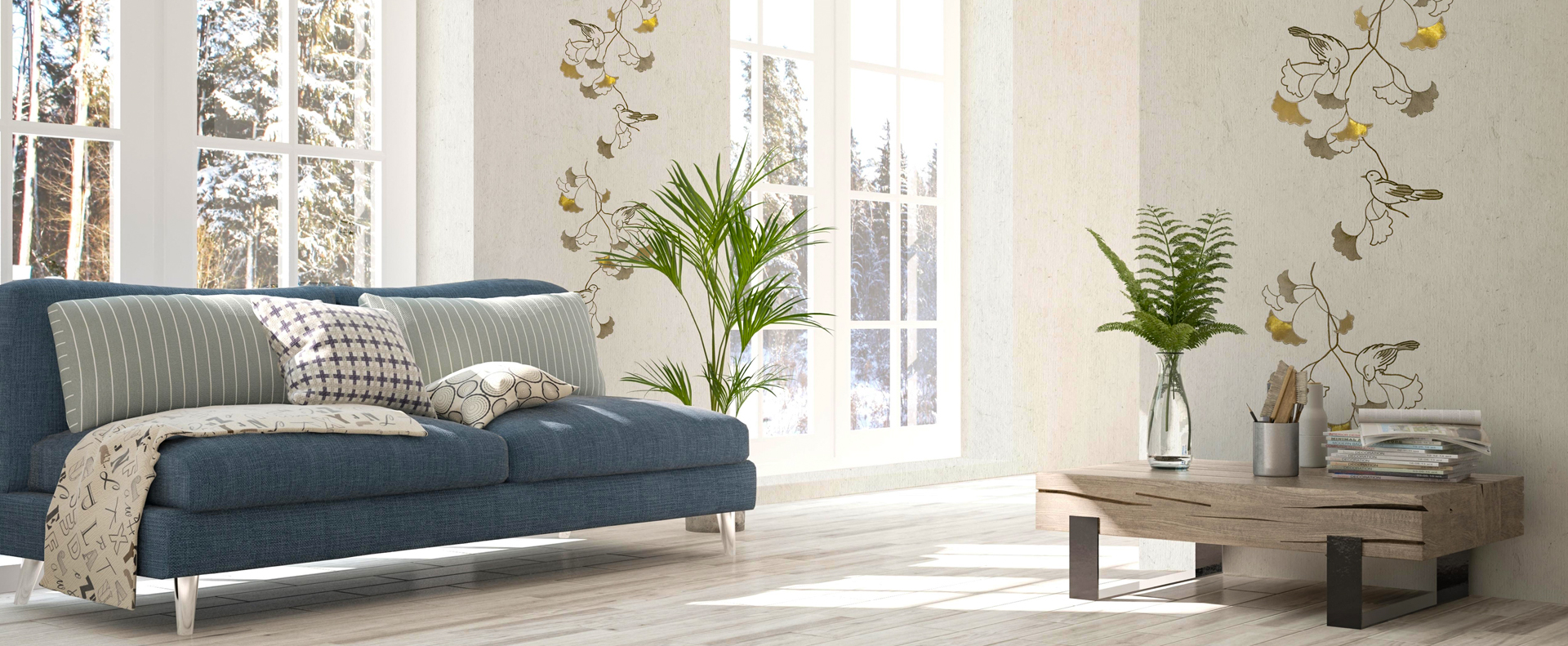 Wallpapers & Wall Decoration
Flax Wallpaper – insulates & decorates
If you are looking for ecologically sustainable living space concepts, you will quickly fall in love with Norafin® flax wallpaper. It is made of 65 % flax fibers and 35 % natural viscose fibers and thus it consists of 100 % natural, renewable raw materials. The naturalness of the wallpaper is further emphasized by the visible flax fibers in the nonwoven, which give the natural tone a lively yet subtle structure.
The flax plant has inherent properties that give our flax wallpaper enormous natural advantages. These include sound and vibration damping as well as thermal insulation properties, a soft feel and natural UV resistance.
The flax wallpaper, which is consolidated by spunlacing, does not require a carrier material but is applied directly to the wall coated with Norafin® flax wallpaper glue. This gives the flax wallpaper two decisive advantages: Firstly, there is no need for chemical additives like polymeric binders or laminating agents to connect the carrier to the surface material. On the other hand, the omission of the carrier material means that flax wallpaper can absorb air humidity much better and release it again when required, so that a good, natural room climate is guaranteed at all times.
The flax wallpaper consists exclusively of natural components – flax and viscose – and is therefore 100 % environmentally and health-friendly, easy to remove & completely compostable.
Thermal conductivity of flax wallpaper in comparison with other media:
wall material
thermal conductivity λ *) (W/(mK))
source
concrete
2.1
according to
the specified
calculation in
plant construction
carpet (335 g/m2)
0.08
carpet (780 g/m2)
0.06
wool base
0.06
cork base
0.05
glas fiber wall covering
0.035 **)
separate calculation
flax wallpaper
0.024 **)
separate calculation

*) thermal conductivity = amount of heat flowing through a layer of material, 1 m thick with a surface area of 1 m², with a temperature difference of 1 kelvin

**) calculated by specific weight, air pockets are included in the nonwoven
>> The smaller the value, the higher the thermal insulation effect of the tested material
New in our product range
The Organoide® natural wallpaper of our partner Organoid Technologies GmbH from Fliess in Austria. The wallpaper is characterized by its unique naturalness and authenticity. It allows for a completely new experience of natural raw materials with all senses, as the surface is untreated and thus the natural scent is preserved. The carrier material for the fragrant grasses of the Tyrolean Wildspitze is our nonwoven, which is made of 100 % flax fibers. Organoide® is an ecological and natural wallpaper, which is breathable and creates a pleasant climate in the room – just like our flax wallpaper.
Our wallpaper even made it to regional TV: MDR reported on it in the inventors' program "Einfach Genial".
On 28.08.2017, our flax wallpaper made it to 3rd place in the Saxon State Prize for Innovation, which is awarded every two years by the innovation platform of the Free State of Saxony "futureSAX".
Click here for our finalist clip:
Click here for our tutorial on how to attach our flax wallpaper: